Property Valuations
Discover the Value — with Accuracy and Confidence
ValueCheck offers a number of solutions to meet your needs for determining both residential and commercial property values. Depending on your organization's specific underwriting criteria and thresholds, you can choose the valuation types that work best for you.
Automated Valuation Models (AVMs)
Property Evaluations
Full Property Appraisals
Learn more about the details of each of these property valuation options.
---
AVMs from ValueCheck
An AVM is a computer-driven model that uses property characteristic data, local market information and price trends to arrive at an estimated value.
At ValueCheck, we combine our national data coverage with a robust AVM methodology to offer your team a foundation for making sound lending decisions.
Additionally, we measure the accuracy of the valuations, and provide a confidence score, by using a forecasted standard deviation (FSD) methodology.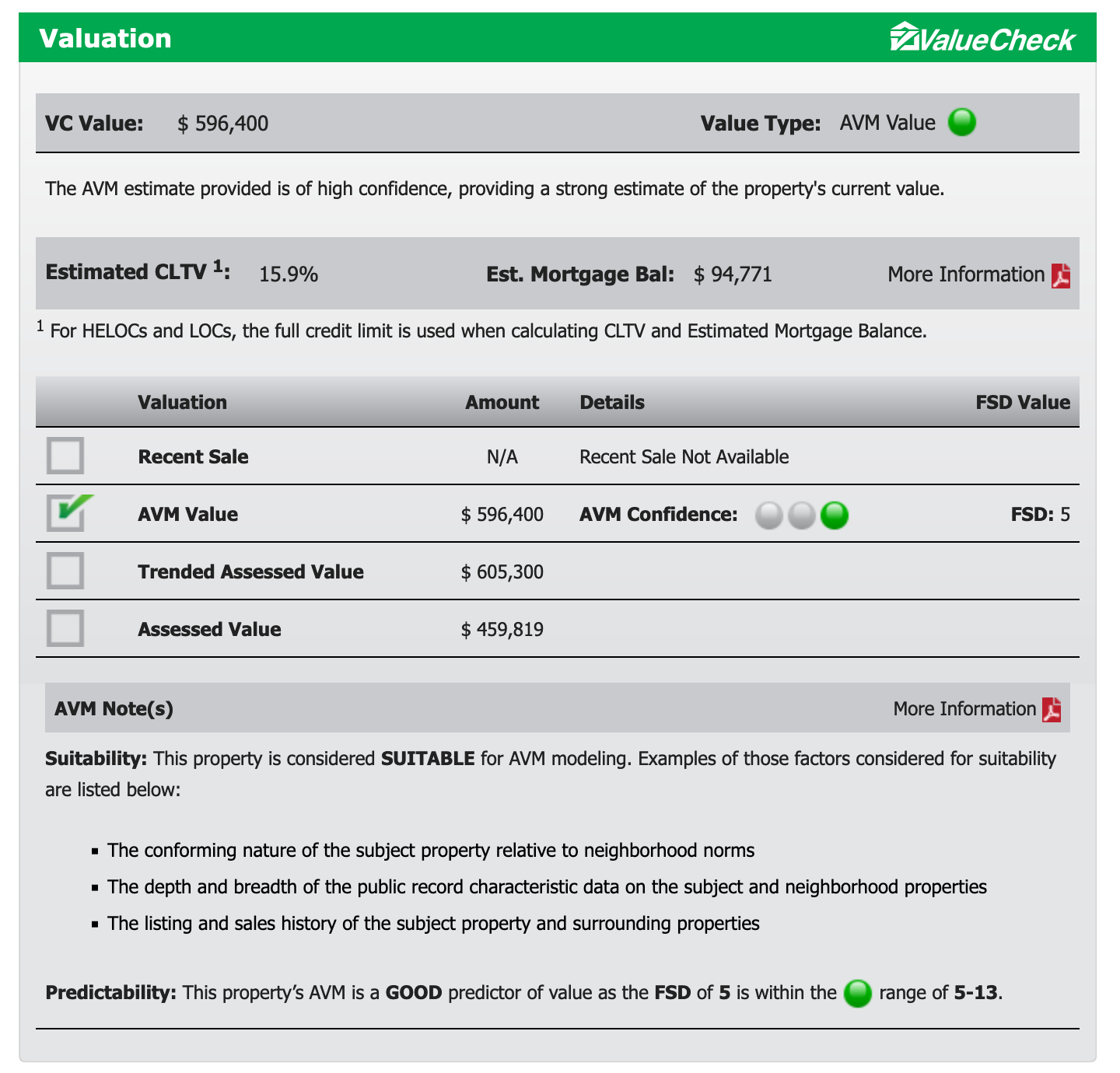 Property Evaluations
An Evaluation is a real property valuation, providing an accurate analysis based on a comparison of the subject property to recent sales and listings in the market area.
We produce the Valuecheck Evaluation report using a combination of enhanced data sources, statistical modeling, automation, and local market professionals. Additionally, our rigorous quality control processes review and validate our data for accuracy. This detailed report is designed to provide mortgage lenders with a comprehensive evaluation that fits an array of lending and other applications.
The Evaluation is a compelling valuation alternative, without the cost and time demands of a full appraisal. It's an ideal option for new HELOC and second mortgage loans under $400K.
An Evaluation is a real property valuation permitted by the Interagency Appraisal and Evaluation Guidelines (IAG) appraisal regulations for transactions that qualify for the appraisal threshold exemption.
Full Property Appraisals
We also offer full property appraisals through our strategic alliance with SWBC Lending Solutions ™, a nationwide Appraisal Management Company (AMC). These best-in-class appraisal products and services are competitively priced, fast, accurate, and fully compliant. And, these products meet interagency, GSE, FHA, and USPAP requirements.
Talk with Our Expert Team
Our team is made up of industry and data experts, with extensive knowledge about property valuations.
We are always at the ready to discuss your specific needs and answer your questions. Let's start a conversation.