Marketing Xpress
Discover new insights in your customer and loan data
The ValueCheck Xpress platform provides an easy, self-service way for lenders to supplement their own data with additional data and key metrics from ValueCheck. Now, you can quickly upload a file with your data, and with just a few steps, download an enhanced data file — empowering you to learn more about your loan portfolio and customers.
Leverage ValueCheck data to precisely craft your marketing initiatives
Gain clear visibility into potential cross-sell opportunities
Expand your customer base with targeted marketing campaigns
Discover how your lending institution can benefit from ValueCheck Marketing Xpress.
---
Drive Increased Loan Volumes and Achieve Results
With Marketing Xpress, you can achieve measurable results in the following ways:
Utilize CLTV to identify potential candidates to approach for new loans
Expand you customer footprint near existing branches with a radius search
Find homeowners and detailed information about their loans with existing lenders
Identify customers that may benefit from loan consolidation (by using key drivers like Current Loan Interest Rate, CLTV and Loan Amount along with Credit Score)
Discover customers with specific loan types (e.g. VA, Jumbo, FHA, HELOC, etc.)
Marketing Xpress is available by subscription within the ValueCheck Xpress platform.
---
Empower Your Marketing Campaigns with Data
With Marketing Xpress, you can leverage ValueCheck's comprehensive property and loan data for informed, data-driven marketing initiatives.
Quickly find the answers you need to effectively market to your customers. You get metrics and loan data like the following:
CLTV (Combined Loan-to-Value)
Loan interest rates
Outstanding loan balances
Lender names
Loan terms
And much more
See the product brochure for a complete list of the available property and loan data items.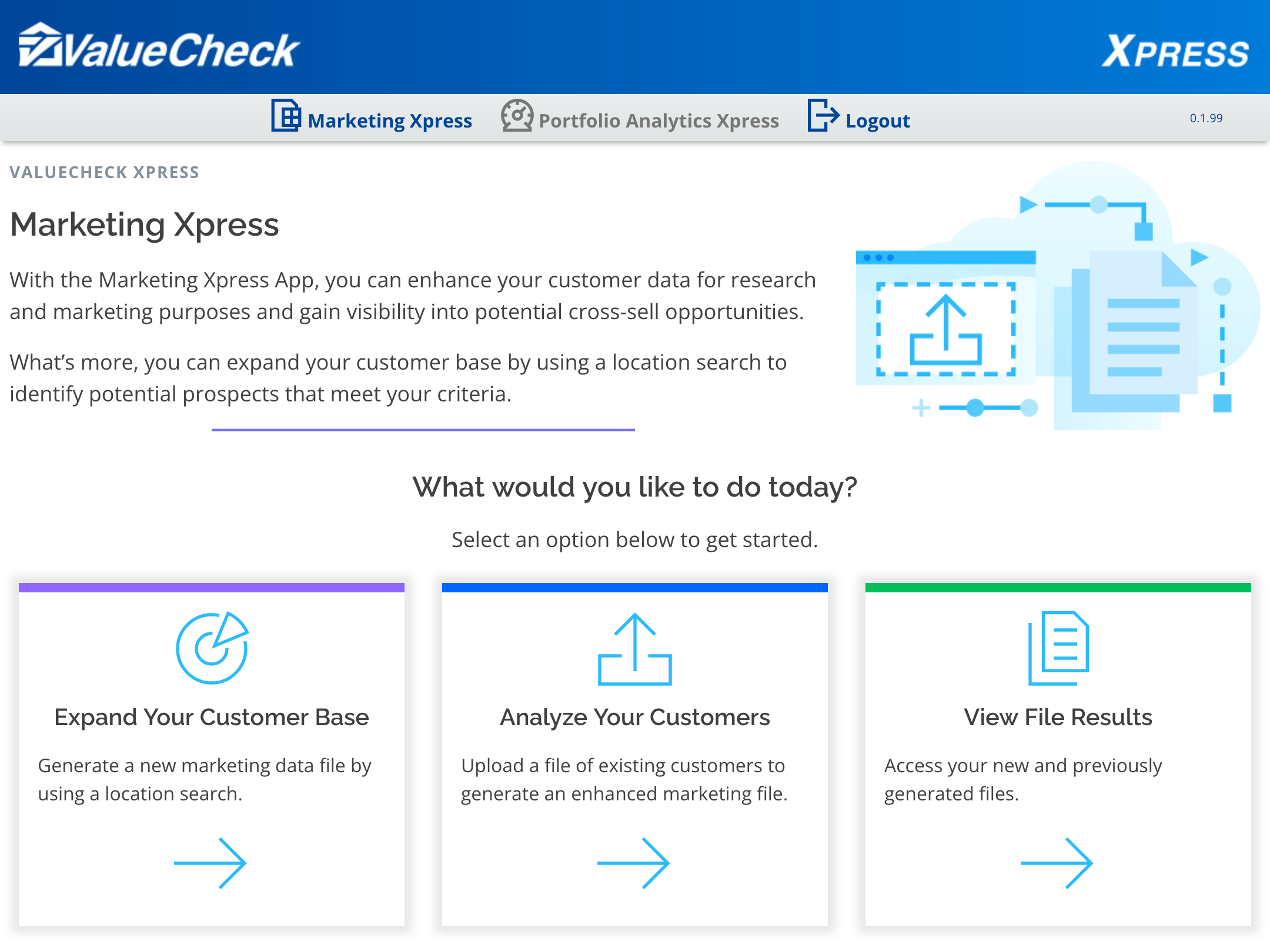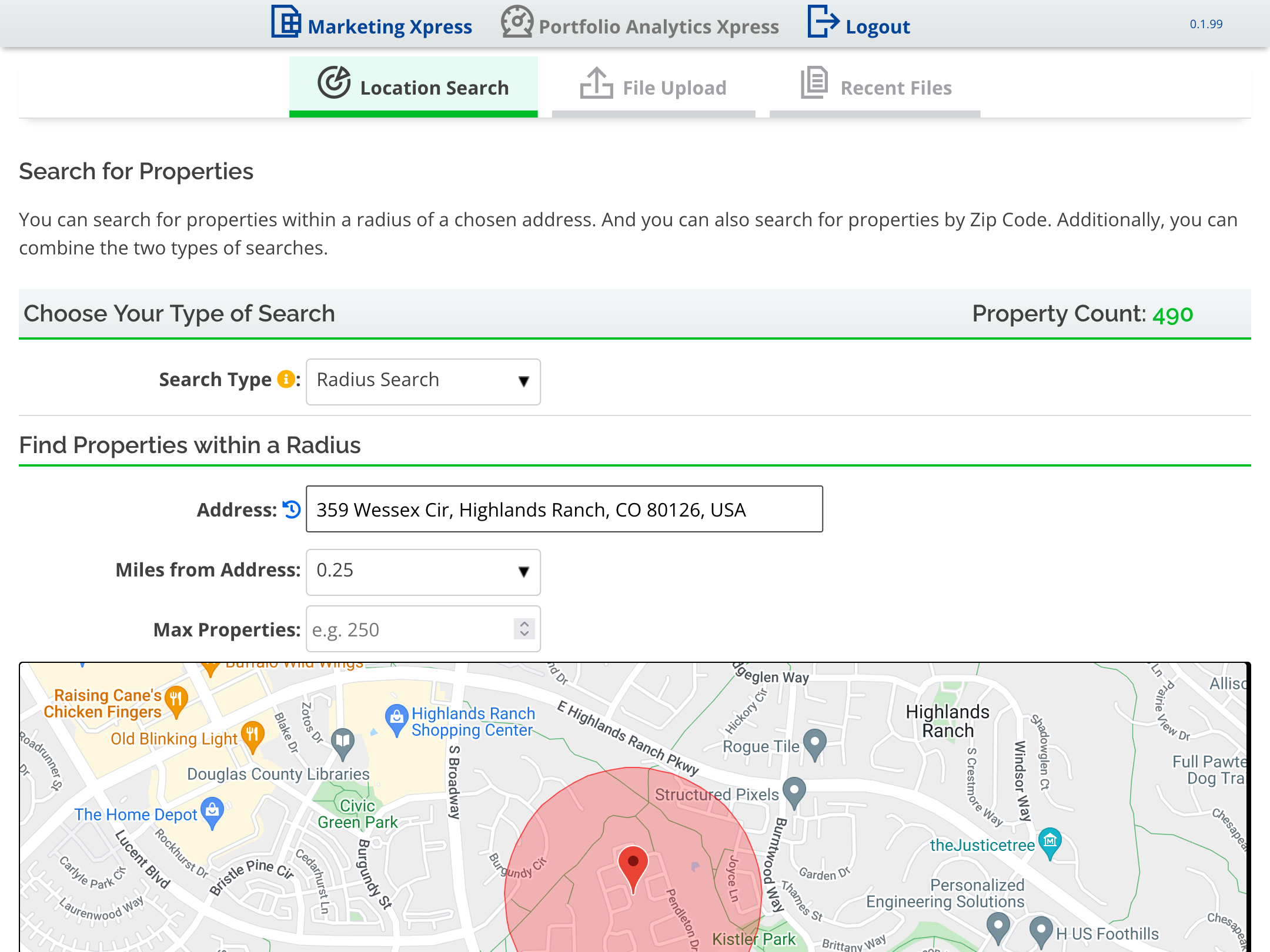 Expand Your Customer Base
Now, you can expand your customer base with more precisely targeted marketing campaigns.
Marketing Xpress provides the robust Location Search functionality that you need to find homeowners in your areas:
Find Properties within a Radius
Locate Properties within Zip Code(s)
Filter on Loan Characteristics, CLTV and more
It's never been easier to target prospective customers that match your criteria with precision and accuracy.
Analyze Your Customers
With ValueCheck Marketing Xpress, you can quickly upload a file with your customer data, and with just a few steps, download an appended data file, enhanced with property and loan data from ValueCheck.
Simply access the ValueCheck Marketing Xpress website — the process couldn't be easier. Just follow a few easy steps to update your file:
Upload a file with your customer data, containing a few basic items.
You can add additional user-defined items to enhance your data.
Then, download your automatically generated output file — It's that easy.
Your data file will be enhanced with the added property and loan data items, providing you with a powerful marketing research tool.