Portfolio Analytics
The Loan Portfolio Analysis Monitoring Solution
Portfolio Analytics from ValueCheck is a complete data and software solution for lenders to evaluate loan portfolios of first and second mortgages, auto loans and other consumer loans. Portfolio Analytics provides insightful and actionable views, helping lenders to achieve their goals with:
Portfolio Risk Analysis
Migration Trend Analysis
Combined Loan To Value (CLTV) Analysis
HELOC Analysis and Much More
Discover how your lending institution can benefit from Portfolio Analytics.
---
Portfolio Analytics Provides Key Benefits
With ValueCheck Portfolio Analytics, you have a full loan portfolio analysis monitoring solution and reporting tool that includes all aspects of the loan data including credit scores, collateral valuation, and borrower specific trends.
Portfolio Analytics offers your organization all of the following benefits:
Compliance with Interagency Appraisal Guidelines
Anytime, anywhere monitoring of your credit portfolio
Visibility into current and potential credit risk exposure
Flexibility to accept your data in any file format for database integration
The ability to quantify loan loss exposure for estimating Allowance for Loan and Lease Losses (ALLL)
The power to identify marketing opportunities for cross selling and up selling
Ongoing, quarterly valuation updates to your real estate and automobile portfolios
---
A Robust Database and an Intuitive Web Application
Portfolio Analytics provides a step-by-step workflow to migrate and clean your portfolio data, combined with an intuitive web application that offers secure, 24/7 access to easy-to-understand reports. Instantly, you will have clear visibility into your potential risk and market exposure.
What's more, along with an understanding of your risk you will also be able to identify new marketing opportunities.
According to The Interagency Appraisal and Evaluation Guidelines, an institution should monitor collateral risk on both a portfolio basis and on an individual credit basis.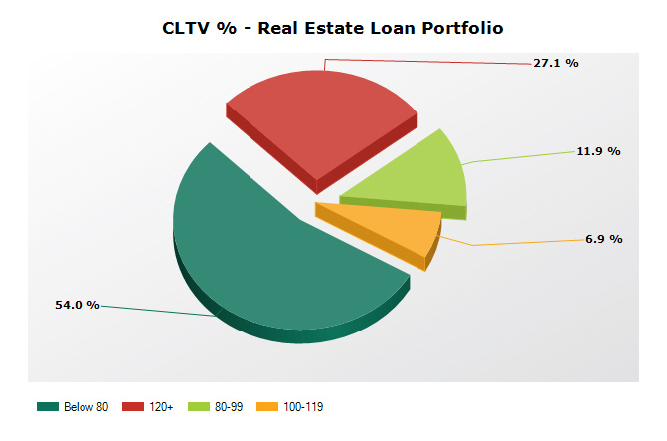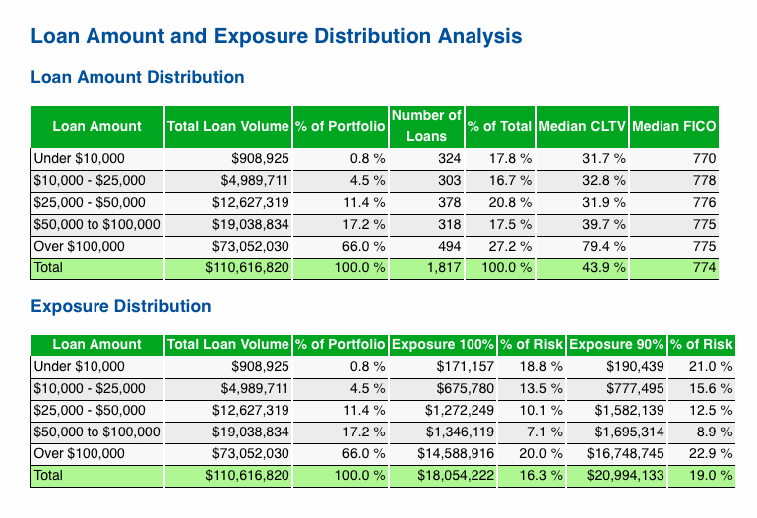 A Comprehensive Suite of Reports and Charts
With Portfolio Analytics, you get a comprehensive suite of reports and charts, providing insightful and actionable views into your loan portfolio, with full coverage in all of the following categories:
Concentration Analysis
Portfolio Risk Analysis
Migration Trend Analysis
Negative Equity, High Risk Loans
Negative Equity, Low Risk Loans
HELOC Analysis
FICO Drop > 10%
CLTV Deterioration > 10%
A Focus on Your Data
At ValueCheck, we pride ourselves on being a Data company. As we build your database over time, our focus is on complete and clean data.
Our team of data experts carefully address mismatches during the data cleansing process.
Our proprietary process provides for correcting these mismatches, filling in missing data, and enabling you to update and revise data going forward.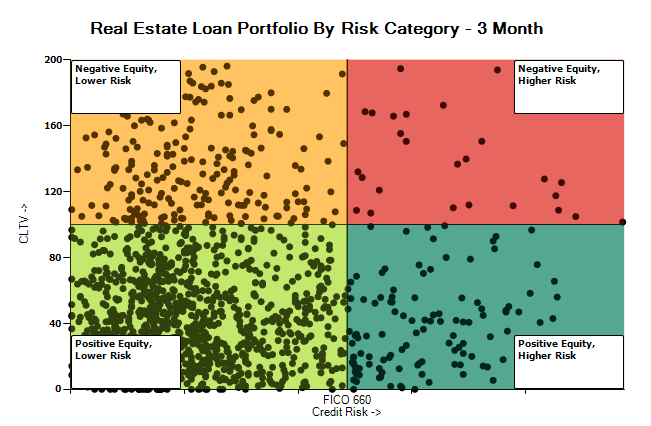 Portfolio Analytics —The Complete Credit Union Solution
Portfolio Analytics is the complete credit union solution, ideal for monitoring loan portfolios, preparing for NCUA examinations, conducting stress tests and also identifying marketing opportunities.